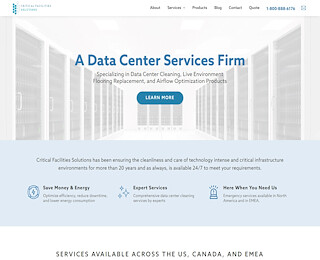 The role of data centers has grown exponentially, mainly as technology has grown, allowing us to come up with smaller machines to replace the massive ones that would fill up an entire room. Today, data centers are much smaller and will continue to shrink in size but increase in capacity and complexity.
The modern-day data centers are optimized to perform better even when they are smaller, but they do need a lot of maintenance because of their fragile electrical systems and complicated functionality. Data centers with these advanced storage systems are the lifeline of major business genres, government offices, and corporations in education, finance, social networking, and retail businesses.
What You Need To Prevent Breakdowns Due To Contamination
Data center managers must have systems to prevent breakdowns even before they happen. Take a moment to work with a data center cleaning company that will offer a comprehensive network to protect your systems at all times. They should be able to use advanced metrics to set up routine cleaning schedules and offer deep cleaning services with organized and consistent approaches.
Critical Facilities Solutions will clean and offer suggestions to prevent a buildup of dirt between the cleaning sessions. Today, we will look at ways in which you can maintain better results and mitigate the dust, dirt, and contamination of your data center features before they start breaking down.
Preventing Data Center Contamination
Use Preventive Measures
Prevention is about anything you can do to avoid damaging your system and extend the life of the units in the room. Prevention will vary depending on the infrastructure details of the center, and the most important thing you can do is work with a professional that spots problematic areas and applies solutions to give the space a buffer of protection and maintain the same excellence. Some preventive measures that can be used for raised floor cleaning for data center rooms include:
Scrubbing the floor weekly
Adding removable walls
Building the area to be a self-sufficient containment with little interference from the outside world
Design the cabinets to allow fast expansion or cleaning
Begin The Server Room Dust Control Process Earlier
Another effective method is to start the cleaning process on the first date of installing the data center room. Ensure that all your team members know what they must do to maintain cleanliness, and then bring in a cleaning company early on so they can keep the space cleaner than if you were to bring them in after a couple of months.
Critical Facilities Solutions offers pre and post-construction services so your data room is clean before you add any servers.
Set Up A Realistic Cleaning Schedule
Regular and proactive sub floor computer room cleaning  is essential when you have a lot of foot traffic because you are still delivering new products or have a lot of upgrades to execute as you set up different storage systems. We know that large data centers are a lot tougher to clean on a regular basis, but we can help you map a realistic program that will include deep cleaning so you do not have to do it every other weekend.
Contact our server room cleaning companies for more information on the data center floor cleaning, server room dust control, or any other cleaning service.